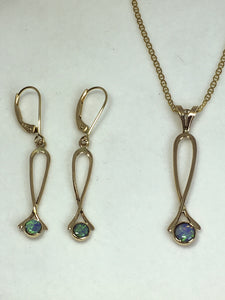 Sweet and gentle, this set of Australian Opal Exclamation Point earrings and pendant will be just right on anyone who likes to wear small and understated jewelry.  This affordable set is in 14K yellow gold and has brilliant blue/green jelly opals.
      Pendant
Pendant size: 1 3/8"

Opal size:  5mm round
Price with 14K  Gucci chain:  $289
Earrings
Length with 14K ear wires:  1 5/8"
Opals size:  4mm round
Price:  $279
$20.00 discount if bought as a set.